Two sets of CV-225N are installed into the new factory. Designated for dried versions of sardines (katakuchi, urume, hirago) and marinated sardines (iriko, zatsubushi)
Five tons and six tons of production are possible for dried sardines and marinated sardines respectively. Operation has been free of troubles since installation.
The drying room using prefabricated house keeps the factory compound clean.
High reputation for quality that remains unchanged even in rainy, summer and winter season.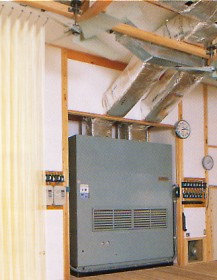 Other than its great taste, its beautiful whiteness and supple touch are evidence of its quality. A quality product that can only be produced in winter season using the conventional warm air system, CV150ANSM is installed in this new factory. Quality of the noodles produced remains unchanged even during the rainy season, summer and also winter time, and we are delighted to know that our customer is pleased with our system.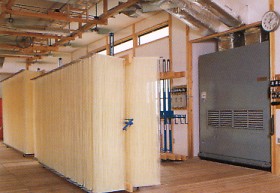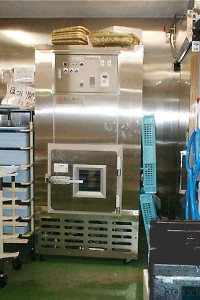 A great leap in the self-production industry.
A fish selling floor at the basement of department store that emphasize the concept of "Raw" "Natural" and "Fresh" food. The system is within the sight of customers.

To Toppage
Asahi Air Condition Industrial Co., Ltd
Head OfficeEFactory / 733-0007 Hiroshima-shi Nishi-ku Omiya 1 Chome 27-20, Japan
Phone : 082-237-0201
For enquiries please contact us at
choon@proof.ocn.ne.jp