*Frequently asked questions and answers. Please feel free to enquire if the answer you want is not available here.
*

How safe is the cool wind drying system?

Electricity is used for cooling and reheating instead of using the usual burner and thus, safety and cleanliness are guaranteed.
*

How many years can a system last?

With proper care, compact size systems can last 15 years while medium and large sized systems can last up to 20 years.
*

How much is the running cost of a system?

[In Japan]
Given that the usage is an average of 8 hours per day, 25 operation days per month,
| | |
| --- | --- |
| CV-10ANc | Approximately 6740 yen per month |
| CV-20AN (2 horsepower) | Approximately 18500 yen per month |
| CV-30AN (3 horsepower) | Approximately 22500 yen per month |
* While warm air drying systems are affected by the environment, cool air drying systems are not. As water vapour is removed within the system, efficiency is enhanced.
*

What do you mean by systems with movable unit?

Movable unit dimension (standard unit) 1160 x 666 x 1750H with 36 plastic trays.
(*Plastic tray (660 x 520 x 45))
You can customize the size of drying unit and horsepower according to the number of standard movable unit you use.
Example

| | |
| --- | --- |
| 15 movable units | System CV-150AN |
| 30 movable units | System CV-300AN |
If you already have the movable units, the horsepower can be adjusted according to the drying room's layout.
*

What is the size of a plastic tray?

The size of standard tray is 660mm x 250mm x 45mm.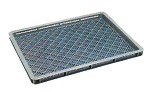 Capacity

| | |
| --- | --- |
| CV-10AN (1horsepower) | 10 pieces |
| CV-20AN (2horsepower) | 48 pieces |
| CV-30AN (3horsepower) | 72 pieces |

To Toppage
Asahi Air Condition Industrial Co., Ltd
Head Office, Factory / 733-0007 Hiroshima-shi Nishi-ku Omiya 1 Chome 27-20, Japan
Phone : 082-237-0201
For enquiries please contact us at
choon@proof.ocn.ne.jp